| | |
| --- | --- |
| Who: | Helena College |
| What: | Wilderness Survival Class |
| Where: | Helena, Montana |
| When: | Sat, Oct 18, 2014 |
Intro to Wilderness Survival
NEW!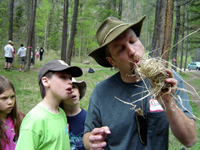 Ever wonder what you would do in a survival situation? How to avoid them altogether? Gain the skills and address the psychological issues that a survivor could face, as well as how to avoid common mistakes that lead to a life-threatening scenario.
Learn hands-on skills like fire making, use of the bush knife, emergency shelter construction and survival kits, as well as the "survivor's mind" and how to keep it working for you!
Prepare for your autumn backcountry adventures by learning time-tested wilderness skills with expert David Cronenwett.
You'll need a high-quality, non-folding knife. If you do not currently own one, a Mora knife can be purchased from the instructor for $20, payable at class.
9:00am-4:00pm
Call (406) 447 – 6945 to signup today!